Just like many other alcohol companies, Hoegaarden also produces other types of drink, I have only tried a few of these but I do have information on them.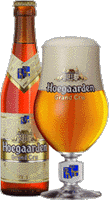 Hoegaarden Grand Cru - This has an 8.7% Vol. It is a similar brew to the original Hoegaarden, but is made purely from barley malt, rather than a mixture of wheats, oats and barley. It is Aromatic, pale and strong, this noble complex beer will evolve in character for 3 to 4 years.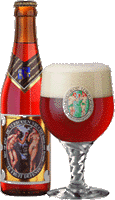 Hoegaarden Forbidden Fruit - This has an 8.8% Vol. It is a complex beer made with a mixture of malts and spiced with coriander. It is deep red in colour, rich, sweet, malty and full bodied. Originally it was brewed for a local town festival, it is now apparently a classic export worldwide. This is more commonly known as De Verboden Vrucht by the Belgian's and Le Fruit Defendu by the French, the bottle caused uproar in the USA because the bottle has a picture of Adam and Eve nearly naked on it - it was thought this but it was not a picture of Adam and Eve but it was a picture based on a Reubens painting.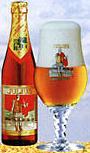 Hoegaarden Julius - This has an 8.8% Vol. This is suprisingly light and dry and this is due to its triple hopping, this also gives it an intense aroma. This was originally to be called Caesar however it was found that there is already a beer in this name.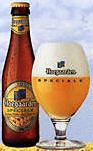 Hoegaarden Speciale - This has a 5.6% Vol. It is a slightly stronger version of the original Hoegaarden but is only brewed in the months of October to February. This has less wheat and more malt barley to give a fuller taste and darker appearance.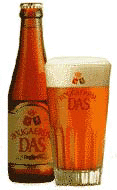 Hougaerdse DAS - This has a 5% Vol. This is brewed from an old German recipe from 1931. It is described as a fruity amber ale and it is spiced with coriander and orange peel. This is the latest beer to emerge from the Hoegaarden Brewery. This has the name Hougaerdse instead of Hoegaarden as this is what the town of Hoegaarden used to be called, you may also find really old memorabilia sporting the name Hougaerdse instead of Hoegaarden on it.